Wenn Melbourne schon nicht die Hauptstadt Australiens geworden ist, so sind ihre Einwohner stolz darauf die Kulturhauptstadt zu sein.
Das bekommen wir auf der I´m Free Walking Tour (welche ich wirklich sehr empfehlen kann) mehrfach erklärt und gezeigt. Doch zunächst schauen wir uns noch die State Library of Victoria an. Sie beherbergt nicht nur mehr als 2 Millionen Bücher und beeindruckende Lesesäle, sondern auch einige Ausstellungen. Für die bleibt jedoch nicht viel Zeit, denn wir wollen ja noch zur Stadtführung…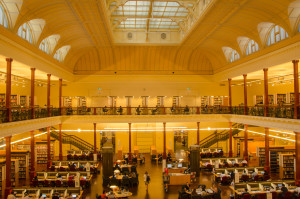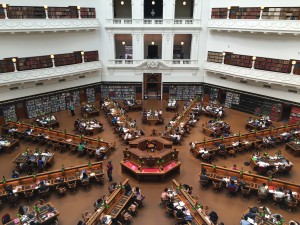 Hier sehen wir neben dem Royal Exhibition Centre

einiges an Straßenkunst, wobei mich die Gegenden vom Flair sehr stark an die Dresdner Neustadt erinnern.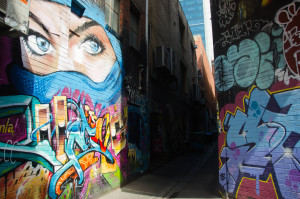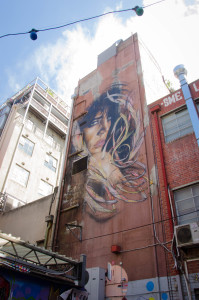 Danach kommen wir zur Flinders Street Station. Wenn man sich wie ein echter Melburnian fühlen will, dann trifft man sich mit seinen Freunden "under the clocks". Damit ist der zu sehende Eingang gemeint, über welchem die Uhrzeiten aus aller Welt angezeigt werden.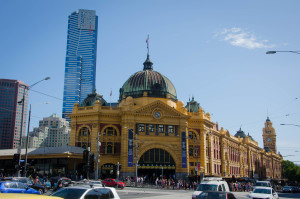 Zum Abschluss bekommen wir nach vielen anderen schönen Plätzen auch diesen gezeigt, der einen perfekten Ausblick auf die Skyline der Stadt bietet.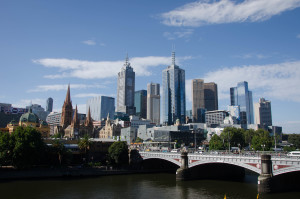 Von etwas weiter entfernt sehen wir diese auch vom Balkon unserer Unterkunft.

Am nächsten Tag geht die Erkundungstour weiter. Im Stadtzentrum gibt es ein Gebiet, in dem man alle Verkehrsmittel kostenlos nutzen kann (Sonst muss man für $6 eine aufladbare Fahrkarte kaufen ohne die man nicht in die Bahnhöfe kommt – kein Papier mehr ist einerseits ganz praktisch, für ein paar Tage jedoch auch wieder Verschwendung…). Dazu gehört auch die historische City Circle Tram. Auf dieser Strecke werden alle touristischen Highlights angesteuert und während der Fahrt bekommt man noch ein paar interessante Infos. Dank der Geräuschkulisse der dicht gedrängten Touristen versteht man diese jedoch kaum.

Nach dem Victoria Market, auf dem wir leckeren Käse probieren können und Händler ihre Ware anpreisen, fahren wir in den Stadtteil Docklands.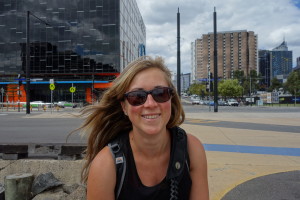 In dem Stadtteil St Kilda findet an diesem Wochenende ein Musikfestival statt, welches wir uns natürlich nicht entgehen lassen. So ein bisschen wie BRN nur mit Strand…

Mit unserem 98er Landcruiser haben wir hin und wieder Probleme und so stellen sich bei der Serviceuntersuchung einige leider als etwas größer heraus. Um die Zeit der Reparatur zu nutzen, gehen Matthias und ich in eine Ausstellung von Andy Warhol und dem chinesischen Konzeptkünstler Ai Wei Wei. Melbourne hat nicht zu viel versprochen bei der Werbung als Kulturhauptstadt!